Hit the play button below to listen to this weeks episode : How To Set Up A No-Till Raised Row Garden This Spring. Below you will also find our show notes along with reference and product links from the article. Be sure to check out all of our past episodes on the website, here at : SIMPLE LIFE GARDEN EPISODES
IMPORTANT REFERENCE LINKS:
PRODUCT LINKS
Show Outline / Show Notes – How To Create A Raised Row Garden
Introduction:
How Raised Row Gardening Began For Us – The Story
Not only is a raised row garden easier to maintain, but also less expensive and time consuming.
Advantages:
No Need For A Rototiller
In fact, no special tools needed at all!
Can Get In The Garden Fast / Less Work / Less Weeds
Creating A Raised Row From Scratch
Can be created from an existing garden, or right on top of a grassy area.
The Raised Row Garden
Setting up in spring for the first year vs. ongoing years – lower and lower maintenance as each year passes
The Walking Rows
Mulching permanently
75% of a typical garden space
no need to ever maintain again
The Growing Rows
18″ wide x length
conserve precious nutrients, compost, etc.
never walk on these areas
tapered mounds
Planting
How to plant transplants
post hole digger method
breaking through soil below
stakes / cages in first
fill the hole with nutrients
mulching on top for power
final mulch using straw or clippings or leaves
How to plant seed crops
use a pick to create furrows
plant and cover, compost in the furrow
mulching seed crops
Maintenance In The Summer
5 to 10 minutes a day – not only easy, but keeps you aware of what is happening in the garden.
re-mulching the growing rows
staying on the walking rows, off of the growing rows
watering
fertilizing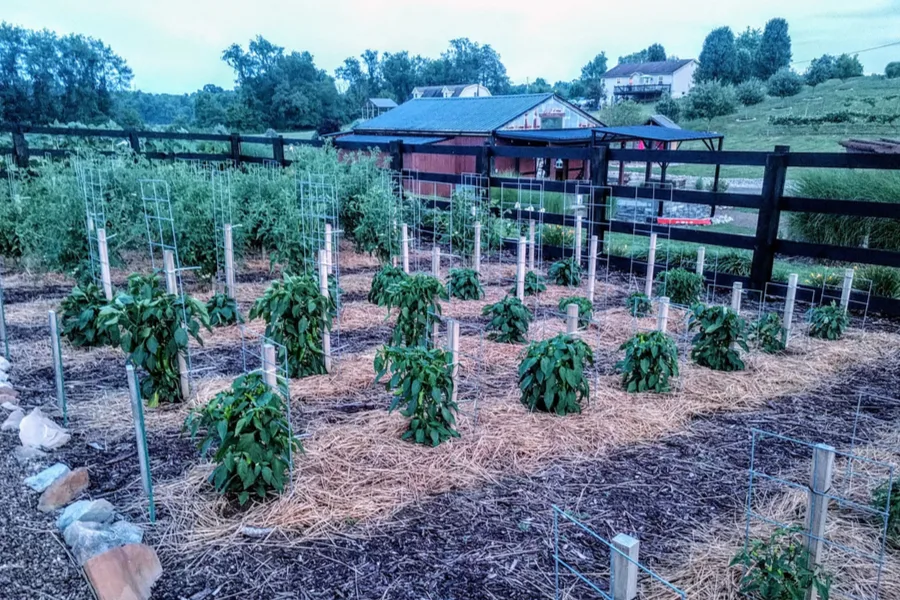 The Fall – The Magic Begins
Not only does a cover crop provide winter protection, but also helps eliminate next years weeds. In fact, with each successive year, the weeds become almost non-existent.
Begin by clearing out all of the existing plants. Next, rake back the straw.
Not only is planting a cover crop easy, it is an inexpensive way to feed your soil too.
seed rows vs. transplant rows – keep rotation in mind for what you will be planting next year
Always be sure to keep soil covered with mulch, crops or cover crops. Because the soil will always be covered, it helps to eliminate the chance of future weeds.
The Following Spring
The following spring it is all about cover crop maintenance
mowing off cover crop – not only easy, but builds nutrients in to the soil.
how to plant through the cover crop
why the advantages to raised row only get better with each passing year.
Wrap Up
Not only is Raised Row gardening easy and cost-effective, it produces great results. In fact, our first garden produced over 2000+ pounds of fresh vegetables from a 20 x 60 plot!