Hit the play button below to listen to this weeks episode : How To Grow Vegetables In 5 Gallon Buckets – Anywhere! Below you will also find our show notes along with references and links from the article. Be sure to check out all of our past episodes on the website at SIMPLE LIFE GARDEN EPISODES
IMPORTANT REFERENCE LINKS & ARTICLES
PRODUCT LINKS
How To Grow Vegetables In 5 Gallon Buckets – Anywhere!
Show Outline / Show Notes
Introduction
Grow Vegetables, Flowers, Herbs Anywhere
Easy To Manage / Maintain
Can Be Made Attractive, Especially with Bucket Covers
Not Just Low Cost / But High Yields – Great Alternative To Expensive Containers
History Of The 5 Gallon Bucket Planters
Story : Trip To Charlotte, NC – Gentleman Growing Farmers Market In Buckets
Created The DIY Bucket Planters – Thousands of Downloads Of The Plans
The 5 gallon bucket is actually a perfect vessel for growing vegetables and annuals. At 14 inches high, and 12″ in diameter, it allows plenty of room for deep, wide roots.
And compared to the cost of expensive containers, it's hard to beat the $3 to $4 price tag of a 5 gallon bucket. Not to mention, they can often even be found for free.
How To Create The Bucket Planter
-BPA / Food Grade Buckets
Tractor Supply – BPA Free
Create Drainage Holes
For our grow buckets, we create drainage holes in the bottom base, and on the sides of the bottom.
To make our holes, we use a 1/2″ – 3/4″ drill bit. We start by drilling 4 to 6 evenly spaced holes in the base of the bucket. Then 4 more holes around 2″ up from the side. This helps to keep water from building up and water logging the plants.
Drainage Material
Fill up the bottom with drainage material for water to pass easily through – 1/8th to 1/4 depending on what you use.
This not only keeps holes from plugging up, but can lighten the bucket depending on what you use.
stones / pebbles
bark mulch
Filling Up The Container
Next, it's time to fill your buckets with potting soil. And is it ever important to make sure that soil is fertile, well-draining and loose!
Add in a bit of compost, perlite and worm castings to our soil to lighten it up and provide it with plenty of additional nutrients.
The compost and worm castings really add serious power to the soil.
At 14 inches high, and 12″ in diameter, you will need about .75 cubic feet of potting soil to fill each bucket.
That total of course can vary a bit by how much drainage material you place in the bottom of each bucket. A good rule of thumb is that for each 2 cubic foot bag of potting soil, you can fill (3) 5 gallon buckets.
Planting
Not only plant vegetables, but herbs, flowers and more.
Watering
You will need to water more often in buckets than a traditional garden. Especially if you live in a hot / arid climate.
Be cautious of over-watering more than under-watering
Check down 2″ in the soil with your finger for moisture – dry to the touch, water.
Water rings for auto watering can be used
Fertilizing
The key to any container growing is proper fertilizing
No matter how rich and fertile the soil is at the start of the growing season, a plant will consume much of the soil's resources as it matures.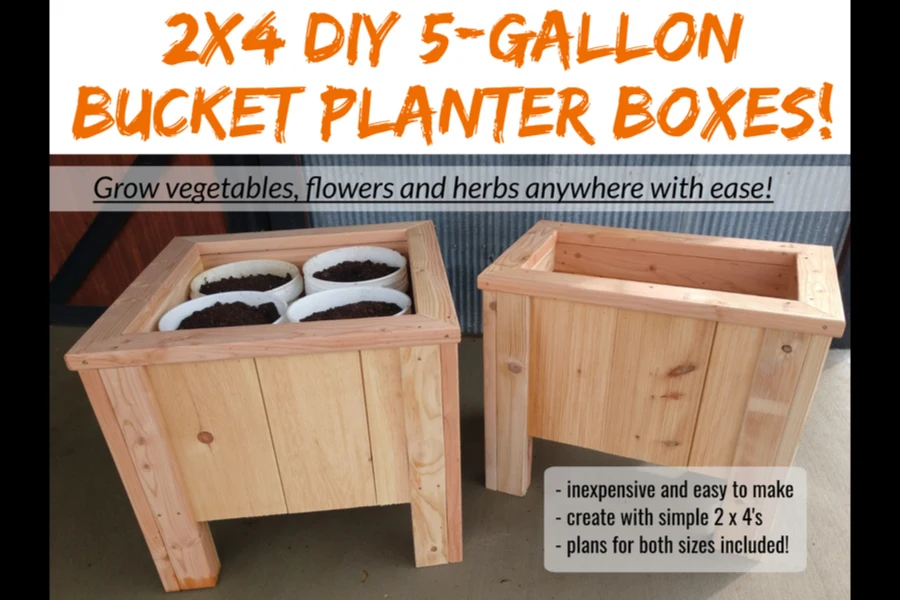 The real key to success when fertilizing container plants is to provide a slow, steady diet of nutrients. Giving plants too much power too quickly can promote too much foliage, and not enough blooms or fruit.
For best results, fertilize your buckets every 2 to 3 weeks with compost tea or a light solution of organic liquid fertilizer. If growing vegetables, cease fertilizing once the fruits have begun to form in full. This will keep the plants from growing foliage, and not producing blooms and fruit.
End Of Season Maintenance
Beauty of buckets – head to the compost pile to recharge the soil
Clean the buckets, mild bleach solution and store for use again next year
DIY Bucket Planters
Holds 2 or 4 buckets
Not only attractive, but easier to use because buckets are up off the ground.
In addition, they are easy to build, inexpensive and long lasting
Wrap Up
Buckets let you grow anywhere – economical and low maintenance
BPA Free / Food Grade Buckets
Provide Drainage
Fill With Quality Potting Soil
Water and Fertilize Right