Hit the play button below to listen to this weeks episode : The Best Heirloom Tomato Varieties To Grow In Your Garden. Below you will also find our show notes along with references and links from the article. Be sure to check out all of our past episodes on the website at SIMPLE LIFE GARDEN EPISODES
IMPORTANT REFERENCE LINKS & ARTICLES
The Best Heirloom Tomato Varieties To Grow In Your Garden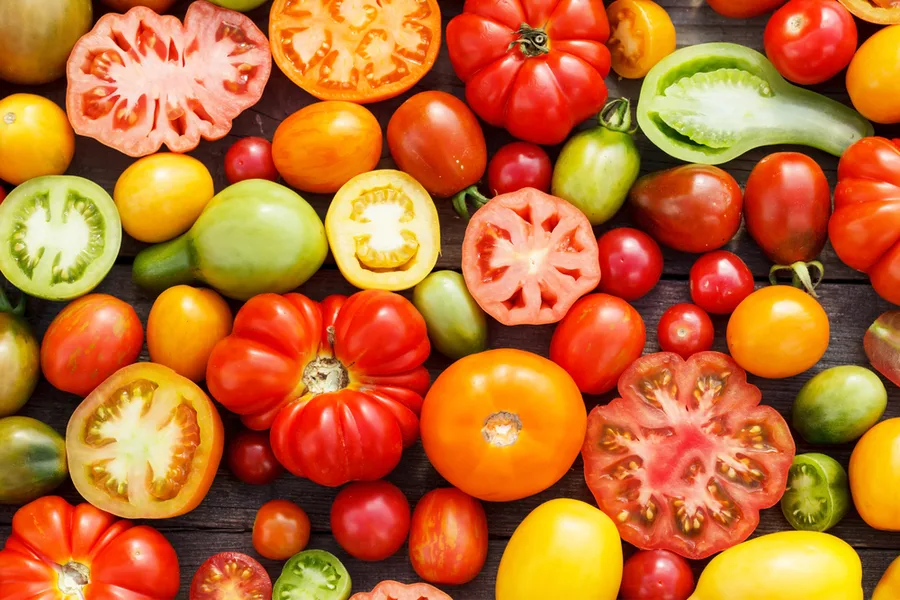 Introduction
What Are Heirloom Tomatoes :
Open Pollinated
Taste and Flavor
Passed down seeds for generations
Determinate vs. Indeterminate
Finding The Right Variety
Canning / Fresh Eating / Salsa & Sauce
How you will be growing – Garden, Raised Beds, Buckets & Containers
The Tomato April Fools Joke Story
Best Heirlooms To Grow
San Marzano Tomato
Ultimate paste tomato
Big yields
Meaty flesh, little seed core
Indeterminate – keeps on producing
Brandywine
Large, meaty tomatoes
Great canning tomato
great for slicing, presentation on plates
Indeterminate – keeps on producing
Mortgage Lifter
Charlie from West Virginia – sold seeds to pay his mortgage
Massive Tomatoes – 3 to 4 lb tomatoes
Great canning tomato
Great for slicing, presentation on plates
Indeterminate – keeps on producing
Aunt Ruby's German Green Tomato
Talk about a bit out of the normal when it comes to tomatoes, this variety ripens green!
Aunt Ruby's is an heirloom tomato variety that hails from Germany. The seeds were carried to the United States by a family living in Tennessee. And yes, you guessed it, Aunt Ruby was part of that family!
The plant produces large half-pound to one pound fruits that are excellent for slicing. Considered a beefsteak variety, what sets it apart is that it matures as as green tomato, and not the usual red.
So how do you know when it's ripe? Beyond getting to the proper size, Aunt Ruby's can be harvested when the fruit softens and the tomato turns a slightly yellowish shade of green. It is certainly an eye-opener when growing in the garden
Large, meaty tomatoes
great for slicing, presentation on plates
indeterminate – keeps on producing
Chocolate Stripes Heirloom
Plants produce thick, dense 3 to 5″ inch fruits that ooze with deliciousness.
Not just great for topping sandwiches, but also for using in salads, or simply for slicing and eating. The rich, meaty flavor is one-of-a kind. In fact, so much so that it has won several national "best tasting tomato" contests.
But what really makes this tomato unique is the beauty of its flesh. With olive / brown stripes and a deep, dark red skin, it is simply beautiful to behold
Tiger Blush
One of our favorites – in between a cherry and a full sized tomato
Delicious sweet, almost peach like flavor
big yields / hundreds on the plant!
perfect for salads or even juicing
indeterminate – keeps on producing
Costoluto Genovese
With roots from Italy, the Costoluto Genovese is a tomato with a past in the United States since the early 1800's.
In fact, it was one of Thomas Jefferson's favorite tomatoes to grow.
The tomato is unique for sure. It has deep red ridges that form a near pumpkin-type shape.
Kellogg's Breakfast Tomato
Low acid – not good for canning
Delicious yellow / orange flesh
Perfect for fresh eating & slicing
incredible for homemade tomato soup!
Black Krim
Originating from Russia, the outer skin becomes near black as the tomato ripens. The flesh is firm, meaty, and full of rich flavor. This is one plant that will require support for sure. It can grow upwards of 5 to 6′ as it continues to produce tomatoes.
We used to grow Cherokee Purple as an alternative, but we seem to have much less issues with the Black Krim
Black Cherry Tomato
Black Cherry Tomatoes have a super-sweet rich flavor. Quite simply, they can't be compared to the bland red cherry tomatoes you find at the grocery store.
As for production they grow and produce til frost. So whatever you do, be prepared to have plenty on hand.
Delicious sweet, almost peach like flavor
Even better, massive yields
Not only perfect for fresh eating, but salads and juicing
indeterminate – keeps on producing
Wrap Up – Conclusion