Looking for a few simple ways to safely melt ice and snow, without having to worry about what you use harming your perennials, shrubs, bushes and trees?
There's no doubt about it – Winter weather can be a hassle and dangerous sometimes. Along with the colder temperatures often comes the hazardous buildup of snow and ice. This winter moisture can really start to pile up on sidewalks, driveways, and other surfaces of your property.
Most people turn to using rock salts and other snow-melting products to help remove that snow and ice buildup. Unfortunately, those products can really come with their own set of issues and problems.
While they are very good at melting ice and snow, they can cause damage to your concrete and driveway surfaces. In addition, they can also be problematic for pets and young children alike. Lastly, rock salts are also often deadly for the plants and shrubs around your property.
So, is there a safe yet effective alternative to helping remove the ice and snow this year? Keep reading to find out!
Why Rock Salt Is Problematic
As soon as the weather starts to cool down, you will likely start to see bags of rock salt everywhere. At the local home improvement stores, at big box stores, at gas stations, and even at your favorite grocery stores.
Rock salts, otherwise known as sodium chloride, are very effective for melting snow and ice from surfaces. They are inexpensive, easy to use, and, as mentioned before, you can find them almost anywhere.
Unfortunately, rock salts are also effective at slowly breaking down the surfaces of driveways, sidewalks, and stairs. If the excess salt isn't properly washed away and removed, it can eventually etch or stain the surfaces.
In addition, as the snow and ice start to melt away, the "saltwater" drains into the surrounding soil. This excess salt is absorbed into the soil and also into the roots and stems of nearby plants and shrubs. The salt then prevents the plants from absorbing other vital nutrients and water.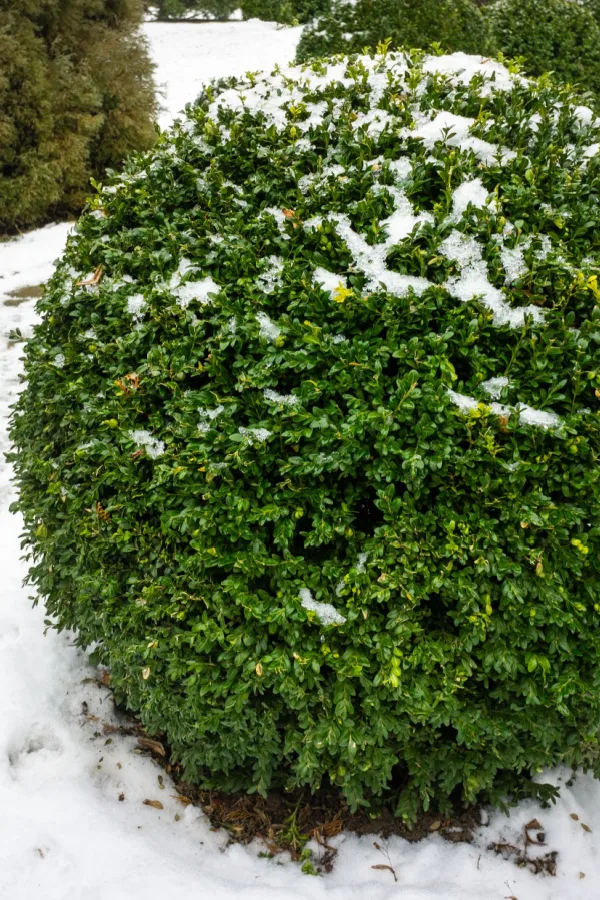 You might not notice excess salt issues in the wintertime while the plants are still dormant. However, during the springtime, the damage is already there. The excess salt robs the plants of moisture, leaving behind large brown or bare areas in the roots, stems, and leaves of the plants or shrubs. It can also cause the plants to completely dry up and die.
Some plants are more vulnerable to rock salt than others. Holly bushes and boxwood shrubs are both extremely susceptible to damage from excessive salt buildup.
How To Safely Melt Ice And Snow
Removing or melting ice and snow is essential for your family to function in the wintertime. There are multiple ER visits and ambulances called each year because someone slipped and fell on the ice or snow.
Thankfully, you can use an alternative or two while still keeping your family safe from slipping. But in the process, they are better for the environment, prevent injury to the neighborhood pets, and are safer for the plants around your home.
Commercial Rock Salt Alternatives – Safely Melt Ice And Snow
Thanks to new advances in technology and companies being more environmentally conscious, manufacturers have now created products that are safer and just as effective at melting ice and snow as rock salt.
Many of these products are still effective down to around -10º Fahrenheit, yet they are labeled as pet safe. In addition, these products also won't kill or damage surrounding plants and shrubs.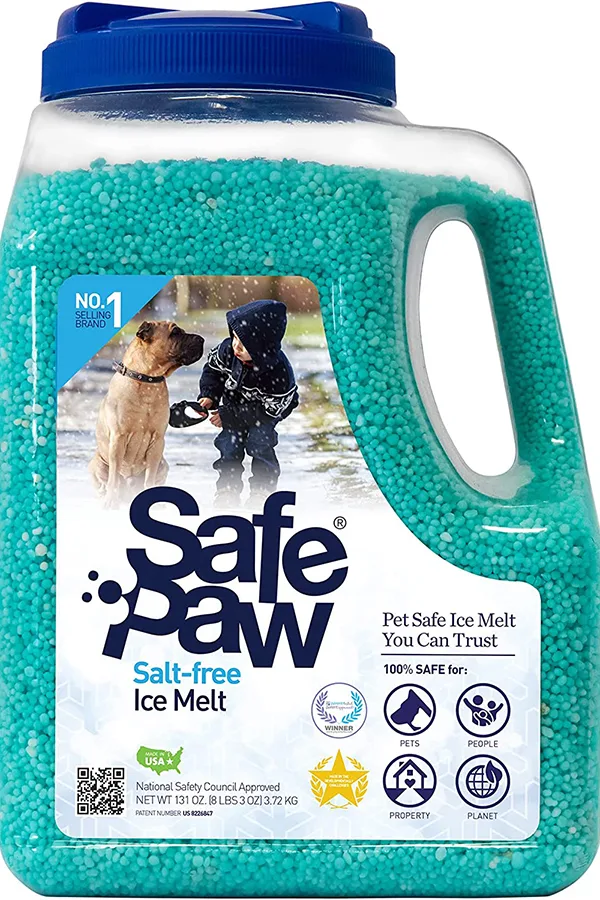 The types of ingredients used might vary, but the goal is the same. Just Be sure to only use these products on sealed concrete that is older than 12 months.
A good alternative to sodium chloride is magnesium chloride. While it is still a chloride and all chlorides have some degree of corrosiveness to them, it has a lower toxicity level than traditional rock salt. As long as your concrete has been properly sealed and the product is used sparingly, it shouldn't harm the surface. The best part is that it is safer for your pets and plants. (Product Link: Green Gobbler Pet Safe)
The product Safe Paw is another option. It contains zero salt and chlorides, is non-toxic for pets and people, and is completely biodegradable. You apply it similarly to how you would traditional rock salt without all of the stress and worry.
Read The Labels
As with any product you purchase in stores or online, be sure to read the package labels. Don't just look at what the company claims as being true. You will sometimes notice that sodium chloride is still in the ingredients, even though it might not be prominently on the package.
Also, consider what the manufacturers are stating to know if it will be safe for plants. If a label for the snow or ice melt alternative is "pet friendly", chances are they are also better for the environment as well.
Think Traction Instead Of Melting – Safely Melt Ice And Snow
Sometimes, all you need is a little traction to get by until the sun can naturally melt the ice and snow. Materials like sand, kitty litter, or even sawdust can all help provide a little traction on slick surfaces.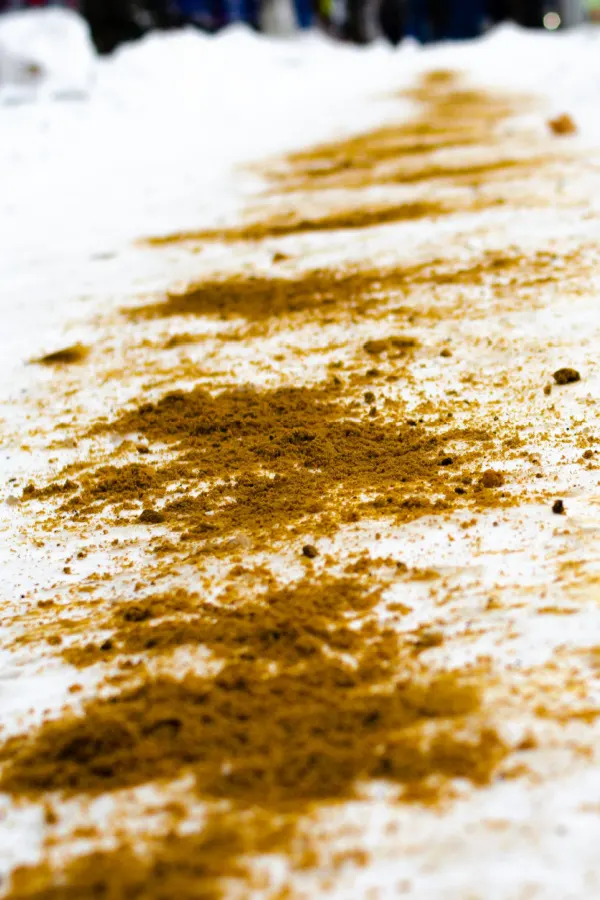 While these products don't technically melt the snow and ice, they are great alternatives for helping to keep your family safe all while not causing any issues to your plants or pets.
It's better to shovel off as much of the snow as possible prior to spreading out one of these products. However, they still allow you and your pets to get out and about on your paved surfaces while waiting for the sun to melt away the excess ice and snow.
Tried and True Method – Safely Melt Ice And Snow
While this method definitely isn't the easiest, it is by far the safest – for your plants anyways! And that is good old-fashioned shoveling or snow blowing.
Even if you feel you must use some rock salt to help melt the ice and snow, reduce the amount you need to use by either applying the product before a snowstorm arrives or be sure to shovel as much snow off as possible before spreading it out. Choose a pet-safe version if at all possible.
Hopefully, you can help to keep not only your family safe this wintertime but also your property and your plants by taking a few of these tips into consideration.
Simple Garden Life is a website dedicated to keeping gardening fun, simple and enjoyable! We publish two new articles each week along with a new garden podcast episode every two weeks. This article may contain affiliate links.