This week's how-to garden article and corresponding podcast are all about using perennials to make stunning container plants!
When it comes to containers, hanging baskets, and potted plants, most people usually think of using annual plants. While flowers such as begonias, impatiens, and petunias all make perfect annual choices for container growing, they can certainly be expensive to purchase.
However, annual plants are only good for creating bold and beautiful displays for one growing season. After that, they simply die off, and unfortunately, can only head to the compost pile. but today's podcast and article are all about using a few perennials to remedy that situation for good!
You can listen in below to our complete podcast, or read on for our in-depth article on the subject!
Why Use Perennials To Make Container Plants
If you've ever purchased annual plants for your hanging pots or containers, you know how expensive it can be. Multiply that by having to purchase every year, and it is enough to make your head spin!
However, when you use a few perennials in those pots, instead of tossing them out at year's end, all you have to do is plant them back into your landscape or garden for winter. Then, next spring, you simply dig them up, and use them again!.
With perennials, you can use the plants that you already have around your property. Or, to mix things up, you can buy a new perennial variety once, and use it again for future years. It is a far cry from having to purchase all new annuals every single year.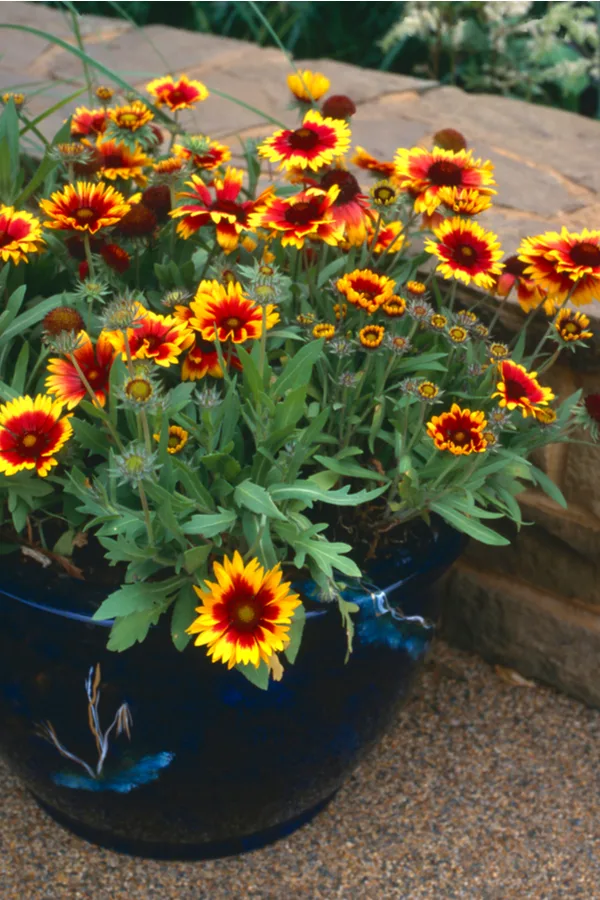 Low Maintenance Potted Perennials
In addition to the cost, perennials are also easier to care for compared to annuals. Annuals put all of their power and nutrients into one growing season. That means they need multiple doses of fertilizers, constant watering, and the right choice of potting soil.
However, perennials are used to working for their water and nutrient sources since they are made to live in the ground. One good application of compost tea and they will stay healthy all season long. They also aren't as picky about what type of potting soil mixture you use, either.
The last reason is that there are so many beautiful and unique perennials out there, the sky really is the limit to your container displays.
For color and texture, consider mixing and matching perennials with annuals. Add flowering perennials with plants that feature variegated foliage. Contrast textures and heights with different varieties of plants. The options are pretty much unlimited!
How To Use Perennials As Container Plants
Containers To Use
Container plantings add so much to a patio, porch, or deck. And with all of the different options you can use, it's easy to find vessels that can hold your perennial plants to really create a statement.
Consider old watering cans, homemade flower boxes, purchased clay pots, or anything you can think of to hold your perennials!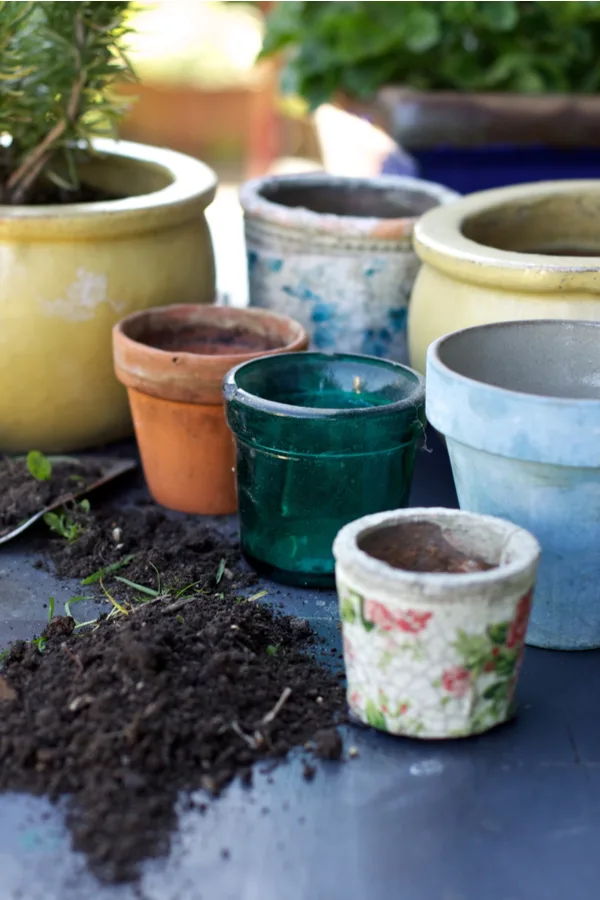 When selecting a vessel, there are a few things to consider. Make sure whatever container you use has plenty of drainage holes in the bottom. If needed, you can drill your own drain holes into most containers.
Just as with annuals, you will want to choose a container that is a few inches larger than the plant or plants you wish to use. This will allow the perennial to spread out slightly without getting its roots crowded.
Potting Soil
As mentioned earlier, the perennials you plant aren't as picky with the type of soil that is used in containers compared to annuals. Use a simple mixture of ⅓ garden soil, ⅓ compost, and ⅓ potting soil.
This equation will not only keep the perennials well fed and supported, but it will also help to save money. It's no secret that pre-bagged potting soil can get expensive, especially when you are needing to fill large containers for your displays!
Where To Get The Plants
There are really two different ways to find perennials to use for your containers. The first is the easiest, and that is to use the perennials that are already growing on your property.
Once the ground can be worked in early spring, you can simply dig up your perennials. Place them into your container and add additional soil if needed. Don't be surprised if it takes the plant a few weeks before it takes hold in its new home. Newly planted perennials may look a little droopy at first.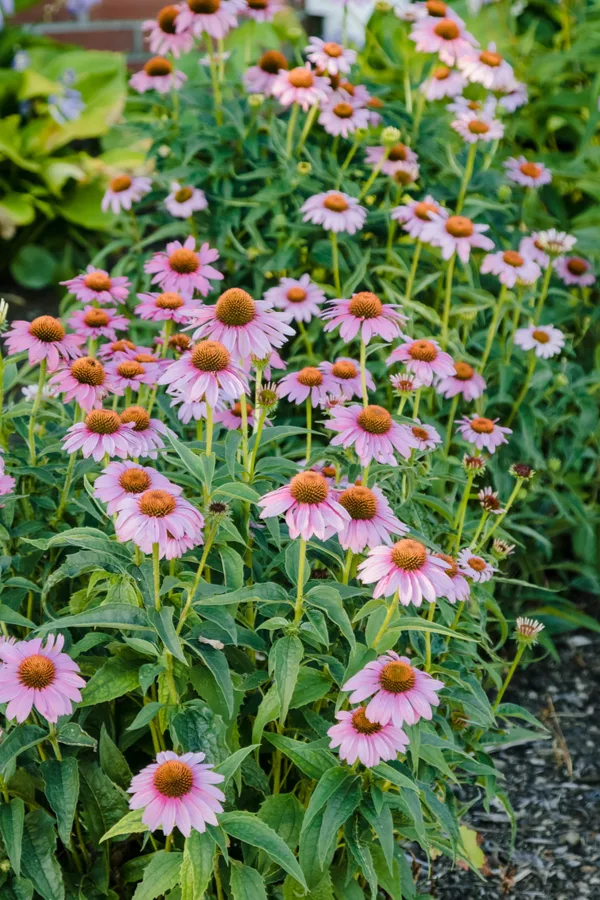 The other great option is to purchase your perennials. Typically, early on in the season, you will find smaller perennials at your local garden centers. These smaller perennials are usually less expensive.
However, they happen to be wonderful for creating incredible potted plants in their first few years of life. As an added bonus, after a few years when they have grown, they can be divided to produce even more perennial plants to pot and use.
End Of Season Care – How To Make Container Plants From Perennials
At the end of the growing season, you don't want to just put your potted perennial in your garage and forget about it until spring. Instead, you should plant the perennial into the ground for overwintering.
Late fall is the best time to plant your perennials in the ground. It's also the perfect time to divide the perennial plants that are already in your soil.
You will need to place the perennials in the ground while the soil is still workable in the fall. This allows the roots to become established prior to winter arriving.
To do this, first remove the plant from the pot. Although you can plant the entire pot in the ground, it is better to remove it and plant it directly into the soil. You can use an open area in a flowerbed, or plant in your empty vegetable garden until spring.
Mulch the area well with several inches of shredded leaves or straw. The mulch will help to protect the roots over the winter. Water well and allow the plant to overwinter. It's that easy!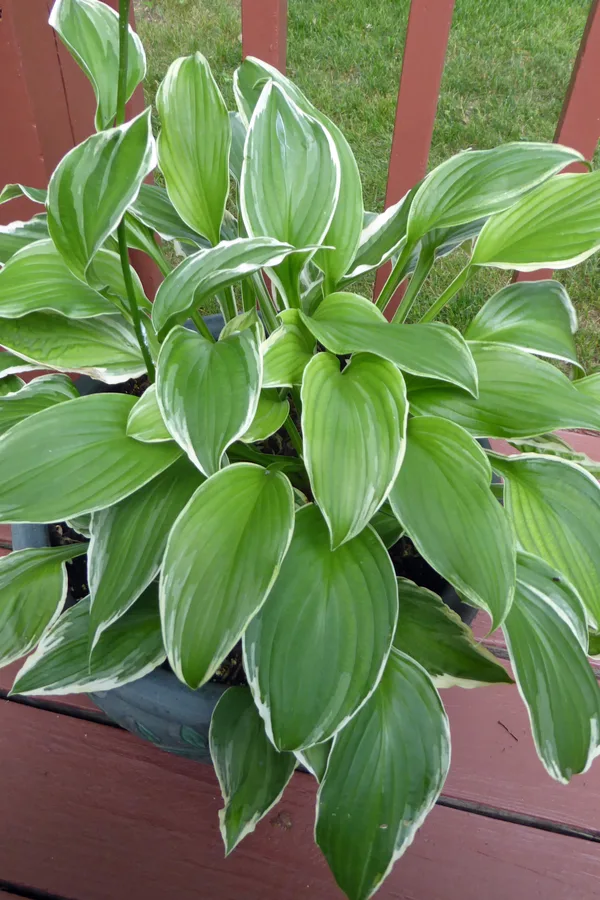 Types Of Perennial Varieties To Use
There are so many different options when it comes to what perennials to use as container plants. Here are a few ideas to get you thinking about how you want your displays to look.
Shade-Loving Perennials
One of the best shade-loving perennials to use as a container plant is a hosta. While they are not a big flowering perennial, their beautiful foliage more than makes up for the lack of massive blooms.
You can find hostas in a wide range of green shades as well as a whole host of variegated patterns. Not only that, but as hostas expand year after year, you can divide them for more in your landscape, or for more pots.
Another great shade-loving perennial is coral bells. These perennials have variegated foliage as well, but they also put out beautiful tiny bell-shaped blooms. Coral bells are also excellent at attracting hummingbirds.
Sun-Loving Perennials
The list of sun-loving perennials is definitely a bit longer than those that prefer shade. Sedum and Salvia are two examples of blooming perennials that bring massive color to containers.
Native flowers such as coneflowers (echinacea) and blanket flowers (gaillardia) add height with their tall blooms. They also come in multiple colors and are perfect for attracting pollinators.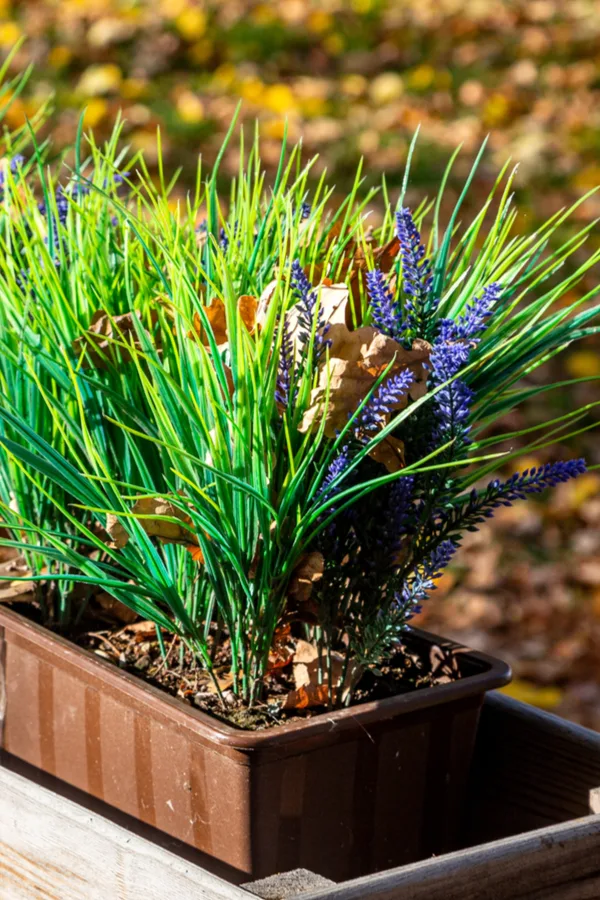 Ornamental grasses are an incredible perennial choice for large containers and pots. With their wispy tall blades and big plumes in the fall, they can make quite a statement. And if you are looking for a shorter grass, try Liriope.
Liriope is small in stature and looks beautiful when placed in the middle of a large container with other shorter perennials around it.
Rotating Pots
Consider creating rotating pots – container plants of perennials that you can swap out once one perennial has died off. This way, you always have a beautiful display of perennials from early spring until late fall.
For example, daylilies are early blooming perennials. After they are finished blooming, plant them back into your landscape. Then add a perennial in its place such as sedum. Sedum has stunning fall bloom displays that can last for a month or more.
Perennial Herbs
Don't just limit yourself to thinking about perennial plants. There are many perennial herbs that work excellently in pots and containers too.
Create an "edible pot" by adding herbs like oregano, thyme, and chives to the same container. The best part about herbs is that you can easily move these pots indoors during the winter, so you don't even have to plant them in the ground.
To Conclude…
Think outside the box when it comes to creating container plants, pots, and hanging baskets. You don't have to be limiting yourself to just using expensive annuals that need replacing year after year. Perennials are a great way to inexpensively add beauty to your property year after year.
Simple Garden Life is a website dedicated to keeping gardening fun, simple and enjoyable! We publish two new articles each week along with a new garden podcast episode every two weeks. This article may contain affiliate links.