Looking for great ways to use a big harvest of cherry tomatoes this year?
Despite their tiny size, cherry tomatoes are just as delicious and versatile as their larger cousins – if not more! Even though they might be small, cherry tomatoes are packed full of robust tomato flavor. In addition, they are one of the juiciest tomato types of all.
Many people think that cherry tomatoes are only good for eating fresh, but the opposite couldn't be more true. Sure they are delicious eaten whole or when added to your salads, but as it turns out, there are actually a whole slew of other great options when it comes to using an abundant cherry tomato harvest.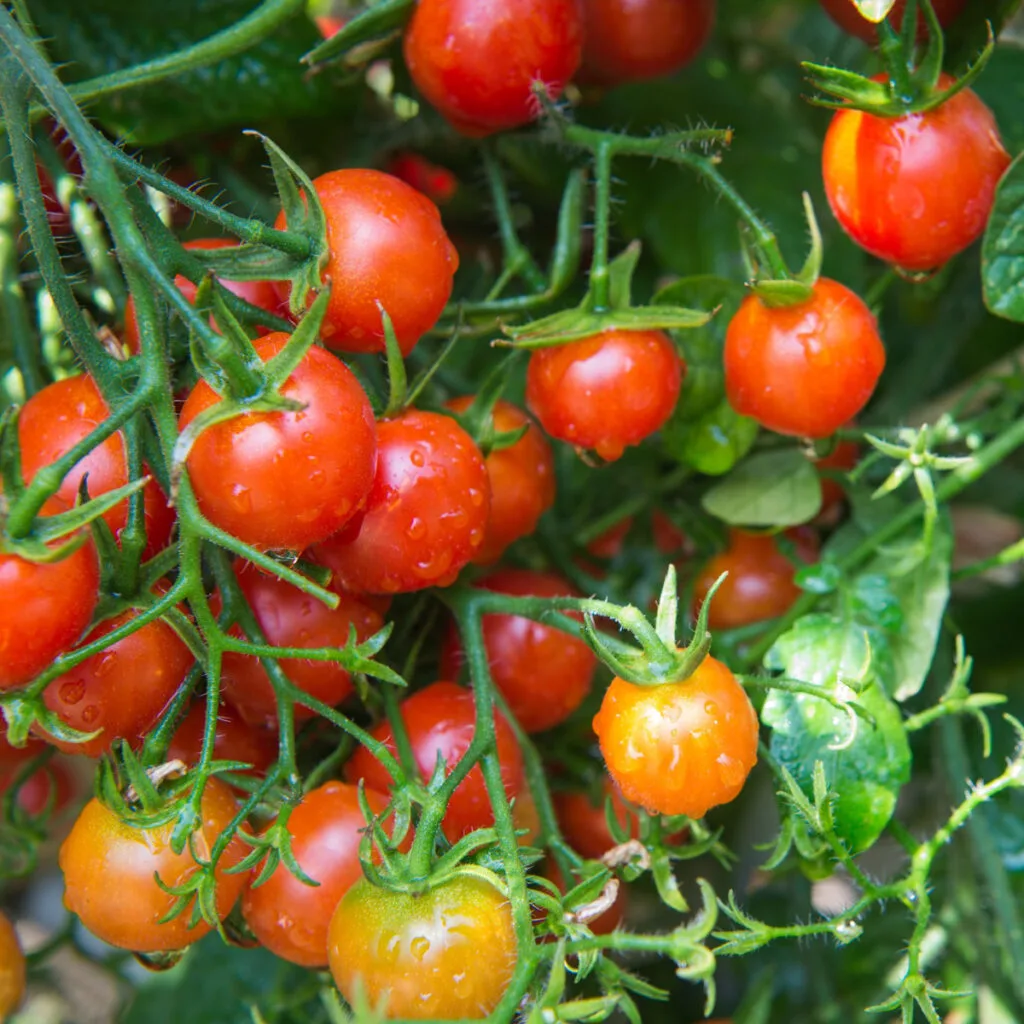 Maybe you've gotten used to harvesting a handful or two every couple of days off of your plants. But what happens when you are inundated with a huge harvest of ripe, juicy cherry tomatoes all at once?
Whether you plant one cherry tomato plant or four, this is a scenario you will likely run into before the summer is over. So instead of being bored with only topping your fresh salads, here's a look at how to use up that large cherry tomato harvest and enjoy all that this tiny fruit can offer!
Using A Big Harvest Of Cherry Tomatoes
When stored properly, cherry tomatoes can last up to about a week. That doesn't give you a lot of time to use up a large bounty of these tiny fruits. Besides, a person can only eat so many salads in one week's time!
So instead of wasting your big harvest, try one of these amazing ways to use up all of those cherry tomatoes. Or better, give them ALL a try this year!
Tomato Juice
One of the best ways to use up a huge harvest of cherry tomatoes is to make tomato juice. Whether you are using it for drinking or for adding to recipes like homemade chili, tomato juice is a great homemade product to have on hand.
Even though they are tiny, cherry tomatoes are packed with tons of juice and flavor. If you've ever popped on in your mouth and taken a bite you know just how much juice is inside!
The process of making homemade tomato juice is simple and straightforward. You don't even need to add any additional liquid when making tomato juice using cherry tomatoes.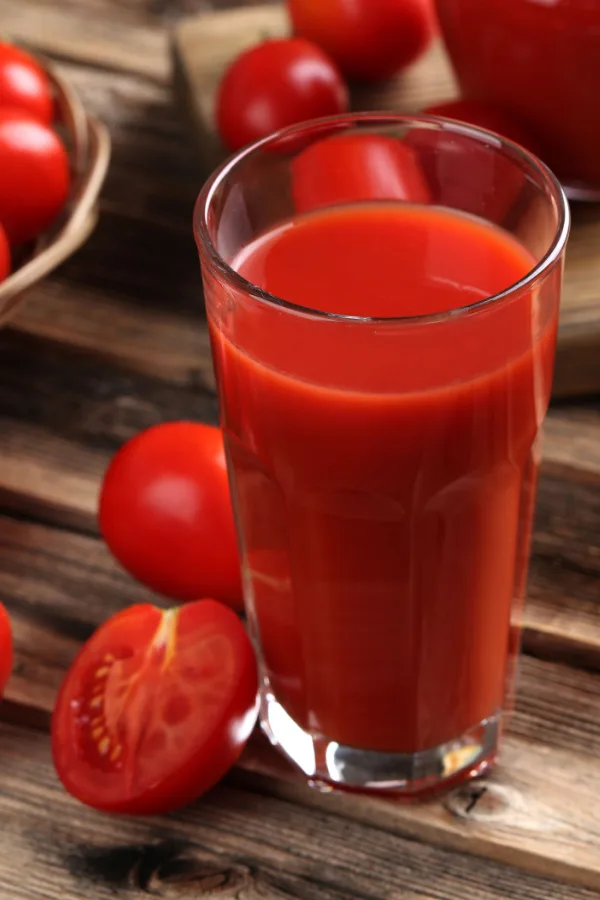 First, wash all of your tomatoes, making sure to remove any stems or damaged fruit. Next, add them to a large stockpot and bring to a boil over medium-low heat. Reduce heat and simmer for about 5 minutes.
After 5 minutes, carefully push the tomatoes through a strainer to remove the peels and seeds. Return the juice to the stockpot and bring it back to a boil. Once boiling, reduce heat and simmer for 5 to 10 minutes. Cool the juice for freezing or process for canning.
Consider mixing in other tomato varieties for really complex and unique tomato juice flavors. Slicing tomatoes also work great due to their high juice content. (See "The 5 Best Slicing Tomatoes To Grow In Your Garden This Year.")
Simple Tomato Sauce – How To Use A Big Harvest Of Cherry Tomatoes
Most cherry tomatoes have a higher sugar content than some of the larger paste or slicing varieties, and that makes them perfect for making a delicious tomato sauce! And, you can create a delicious sauce using only five simple ingredients.
Warm up 4 tablespoons of olive oil in a large skillet over medium heat. Add 4 cloves of minced garlic and allow to become fragrant and slightly softened (takes about two minutes).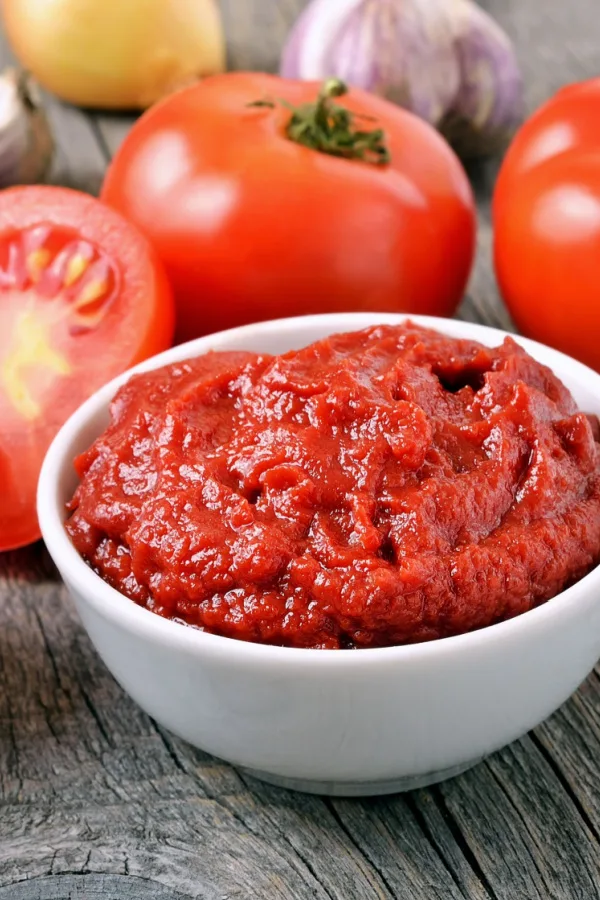 Next, add four cups of washed cherry tomatoes to the skillet and mix well. Allow them to cook down, smashing them once they open up. Continue to cook until they reach the desired consistency.
Finally, add 1 cup of chopped fresh basil and ground black pepper to taste. Salt can be added optionally if desired. Use this tomato sauce immediately over your favorite pasta or freeze it for later use.
Freezing Whole – How To Use A Big Harvest Of Cherry Tomatoes
One of the easiest ways to tackle a large crop of ripe cherry tomatoes is to freeze them whole. This is a great option that allows you more flexibility if you don't have the time to process the fruit right at the moment you harvest.
In addition, it also allows you to harvest several smaller batches for processing one big batch later on. Or, you can store different varieties in the freezer due to different maturity rates and then mix them all together for unique flavor profiles.
You can even enjoy thawed-out cherry tomatoes on your salads and in recipes just like you would with fresh tomatoes. Just keep in mind that the texture will be softer and you won't have the nice "pop" like you would if they were eaten fresh.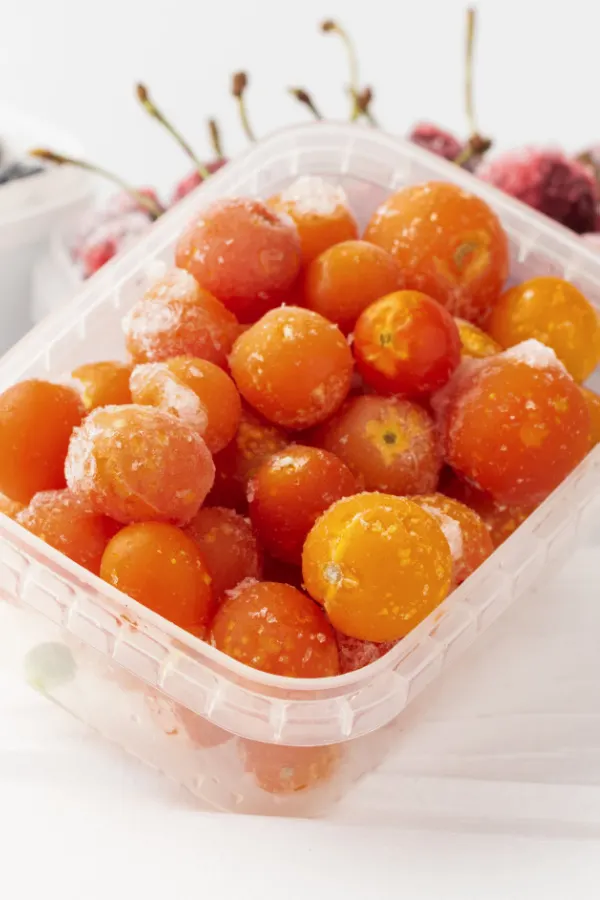 To freeze tomatoes whole, simply wash them in water, being sure to remove any stems or damaged fruit. Allow them to dry and then place them in a single layer on a baking sheet. Place in the freezer to flash freeze for an hour or so.
Add the frozen cherry tomatoes to freezer-safe bags, removing as much of the air as possible when sealing. Now you can pull them out whenever you are ready to process a large batch, or when you want the fresh flavor of just-picked tomatoes in your favorite recipes, sauces, salads, etc.
Roasted Cherry Tomatoes – Using A Big Harvest Of Cherry Tomatoes
When you want to really make the most out of the cherry tomato flavors, consider roasting them. Roasted cherry tomatoes have an intense flavor that works well with a huge variety of dishes – meat and vegetarian alike!
Wash and remove any stems or damaged fruit before cutting or using. You can choose to roast the tomatoes whole or you can cut them in half – both options work just fine.
Place your cherry tomatoes on a baking sheet lined with parchment paper. Drizzle the fruit with olive oil. Add a generous sprinkling of salt, pepper, and any other desired seasonings on top. If needed, mix around the tomatoes on the sheet to make sure all pieces are evenly coated.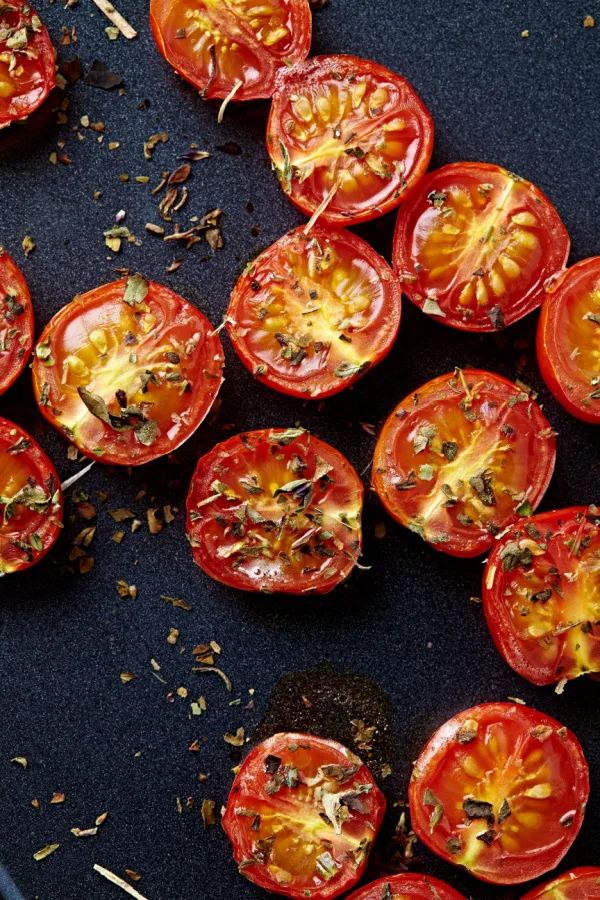 Roast them uncovered in a 400º Fahrenheit (F) oven for about 20 to 30 minutes. They should look slightly caramelized and, if whole, they should have burst open. Serve them with your favorite dish or freeze them for later processing or use.
Dehydrated Cherry Tomatoes
When you want to store a big harvest of cherry tomatoes, consider dehydrating your fruit. Dehydrating removes all of the moisture within foods which extends the shelf life of food. It also concentrates the flavors as well.
Dehydrated cherry tomatoes are also perfect for topping focaccia bread, homemade pizza, or even adding to tomato sauces to create a richer flavor profile. You can even create a powder out of the dehydrated cherry tomatoes to add to your favorite dishes that could benefit from a zest of tomato flavor.
You can use an oven to dry tomatoes or you can "sun dry" them. However, neither option is ideal, and you will struggle to "sun dry" them in states that have high humidity levels.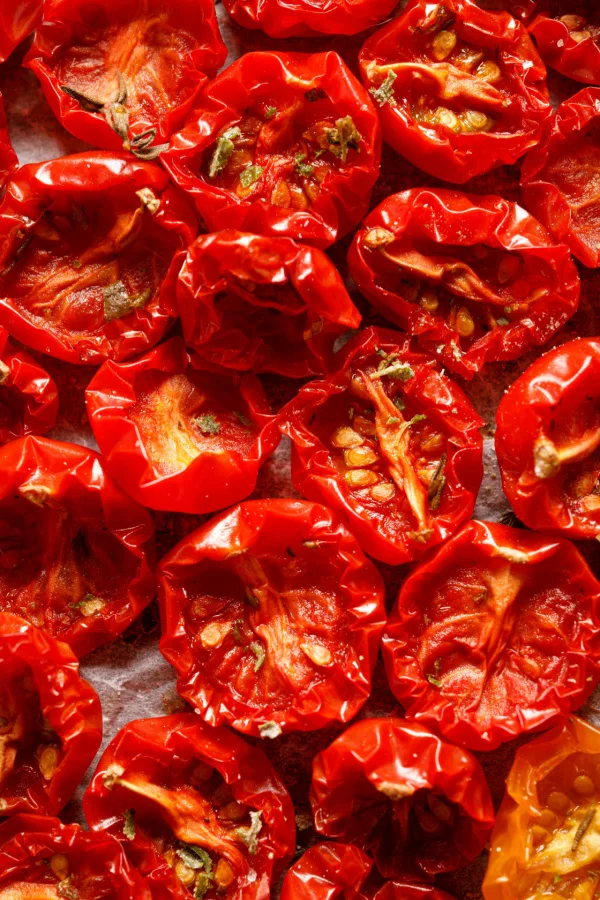 The best option is to use a dehydrator. While they are a slight investment, they are well worth it for a variety of different healthy food options beyond just tomatoes. (Affiliate Link: COSORI Food Dehydrator)
How To Dehydrate Cherry Tomatoes
Wash your tomatoes and allow them to dry at room temperature. Cut each one in half and drizzle with olive oil, salt, and desired spices. Mix to evenly coat each piece.
If using an oven, set the tomatoes with the cut side up on a cookie sheet lined with parchment paper. Cook at 200º F (or lower if your oven allows) for 4 to 8 hours.
If using a dehydrator, place the tomatoes with the cut side up on the trays. Set the dehydrator to 140º F and allow them to dry for 6 to 10 hours. Store the tomatoes in air-tight containers in a cool location and use them within 6 to 9 months.
With all of these great options, you should have no issues finding great ways to use up your big harvest of delicious cherry tomatoes this summer!
Simple Garden Life is a website dedicated to keeping gardening fun, simple and enjoyable! We publish two new articles each week along with a new garden podcast episode every two weeks. This article may contain affiliate links.