Looking for the best slicing tomatoes to grow in your garden or on your patio in containers?
When it comes to preparing a delicious homemade sandwich during the warm summer months, nothing can add more flavor than the perfect slice of a juicy tomato. Especially when it's homegrown and plucked fresh from your backyard!
When looking for the perfect tomato for slicing, it's important to realize that not all tomatoes are created equally. Roma tomatoes are typically denser and have fewer seeds and gel. That makes them great for using in sauces and dishes that require thick consistency – but not so much on a sandwich.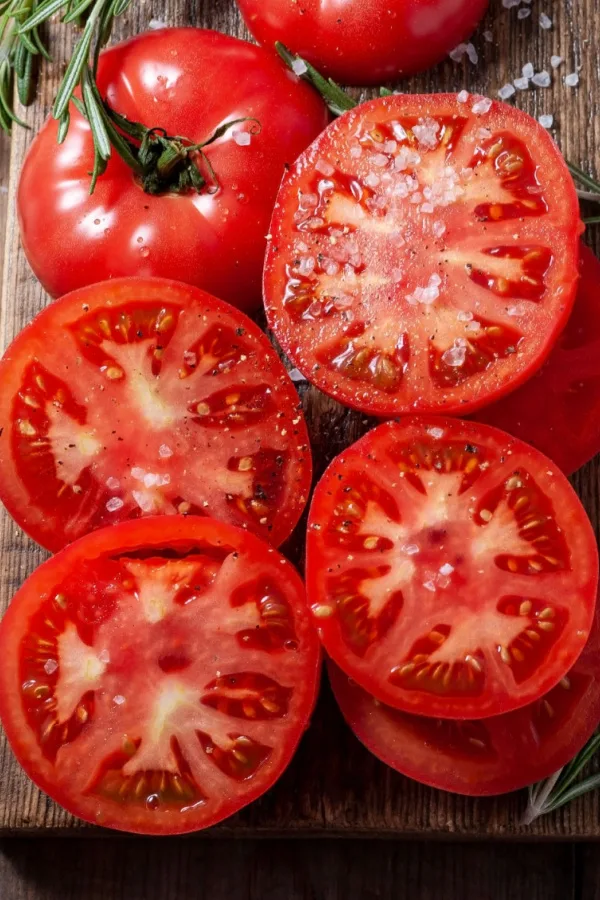 Cherry tomatoes, on the other hand, are smaller and best for putting in salads or fresh dishes. But when you want a juicy, meaty tomato for that perfect sandwich or for the grill, then its the slicing tomato to the rescue!
Slicing tomatoes usually have thinner-skins and feature a rich, bold flavor – and do we ever have 5 of the best of the best slicing tomatoes to feature today that ooze with richness and flavor! If your goal is growing tomatoes for topping your BLT sandwich or for eating fresh, then check out the great selections below and get ready for some amazing fresh eating this year!
The 5 Best Slicing Tomatoes
Cherokee Purple
When you want a slicing tomato that really stands out, look no further than Cherokee Purple! The Cherokee Purple tomatoes have beautiful dark purple to deep red colored flesh. They feature a rich, deep flavor as well – all while staying slightly sweet at the same time.
Cherokee Purples are heirloom indeterminate tomato varieties. This means that they will continue to produce beefsteak-sized tomatoes throughout the growing season and up until the first frost. The fruit typically ranges around one pound in weight each, making them an excellent choice for slicing.
Cherokee Purple tomatoes grow around 3 to 3-1/2 feet tall. It takes about 85 days from planting seeds before you can start harvesting the 12 to 16-ounce sized fruit, but is it ever worth the wait! (Product Link: Cherokee Purple Tomato Seeds)
Celebrity – The 5 Best Slicing Tomatoes
While maybe not one of the largest slicing tomatoes on this list, the Celebrity tomato (pictured at the top of the article) is one of the best for providing consistently high yields.
The Celebrity is a hybrid cultivar that produces medium-large tomatoes that are great for slicing and other fresh eating. It is considered to be a semi-determinate plant since it only grows to about 3 to 4 feet tall, but it still produces fruit right up until the first frost.
The 8 to 10-ounce fruit grows in clusters along long vines. The vines benefit from staking or support to help keep the fruit off the ground. You can start harvesting fruit in around 70 to 75 days from sowing. (Affiliate Seed Link: Celebrity Plus Seeds)
Another advantage to the Celebrity tomato is that it is fairly disease and pest resistant. This makes them a great choice if you've had issues with the health of other tomato plant varieties in your garden in the past. See: What Causes Tomato Blight – And How To Keep It Off Of Your Plants!
Brandywine – The 5 Best Slicing Tomatoes
Whether you choose pink, red, yellow or black varieties of Brandywine, you won't be disappointed with the taste of this famous heirloom tomato.
Brandywine tomatoes are indeterminate heirloom plants that will continue to produce vines and fruit until the first frost. The firm yet juicy fruit is notable for being non-acidic and is the perfect size for placing on top of a slice of bread.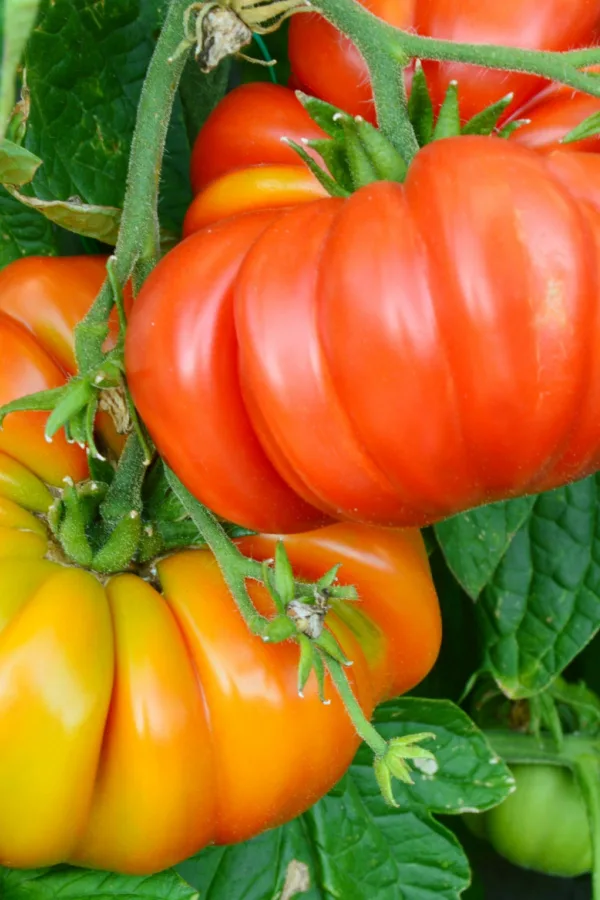 The tomatoes grow to over one pound each, so plants definitely need staking or support to help keep vines from breaking from the weight of the hefty fruit. Some fruit can even weigh as much as two pounds!
Brandywine plants take anywhere from 80 to 100 days from sowing until you can start to harvest the fruit. Plants will get around 9 feet tall throughout the growing season, but can be pruned down to keep more manageable. (Product Link: Brandywine Red)
Arkansas Traveler
An old Southern heirloom variety, Arkansas Traveler makes up for their smaller fruit size with their delicious yet mild flavor. These indeterminate plants produce medium-sized fruit on vines all growing season long. Each tomato weighs around 6 to 8 ounces and is perfect for slicing and eating fresh.
As an added bonus, this flavorful tomato is also wonderful for creating delicious sauces too. Talk about a multi-purpose slicing tomato! With it's overly productive harvests, it is a great choice for making sure you have enough tomatoes on hand all season.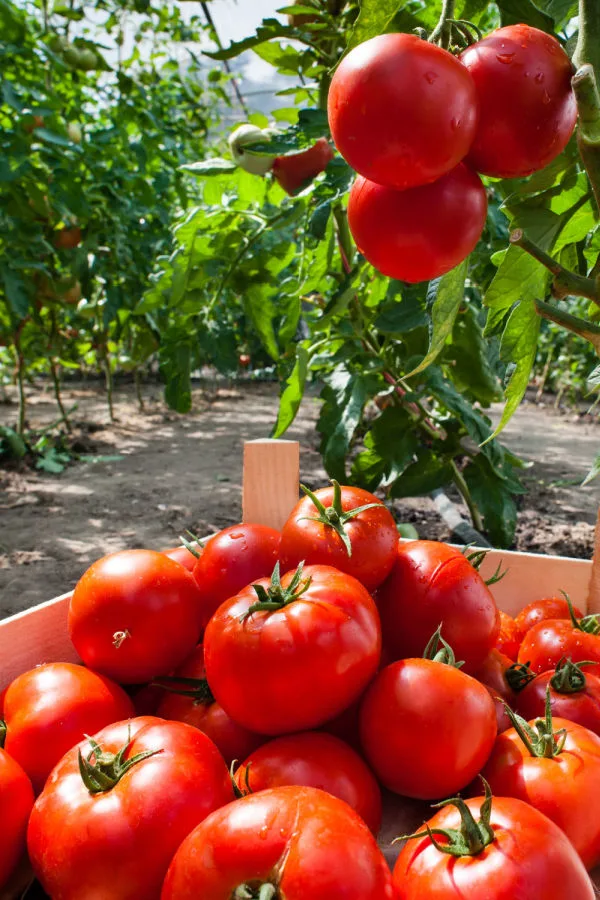 Arkansas Traveler was created at the University of Arkansas and is best known for being heat-tolerant and crack resistant. Plants take about 75 to 85 days after sowing before they are ready to start harvesting. (Product Link: Arkansas Traveler)
Rutgers
Last but definitely not least is Rutgers. This is another heirloom variety that is extremely productive and dependable.
Plants are determinate, which means that they are more compact and will produce fruit that ripens around the same time. Rutgers will be ready for harvest in about 60 to 90 days after sowing seeds.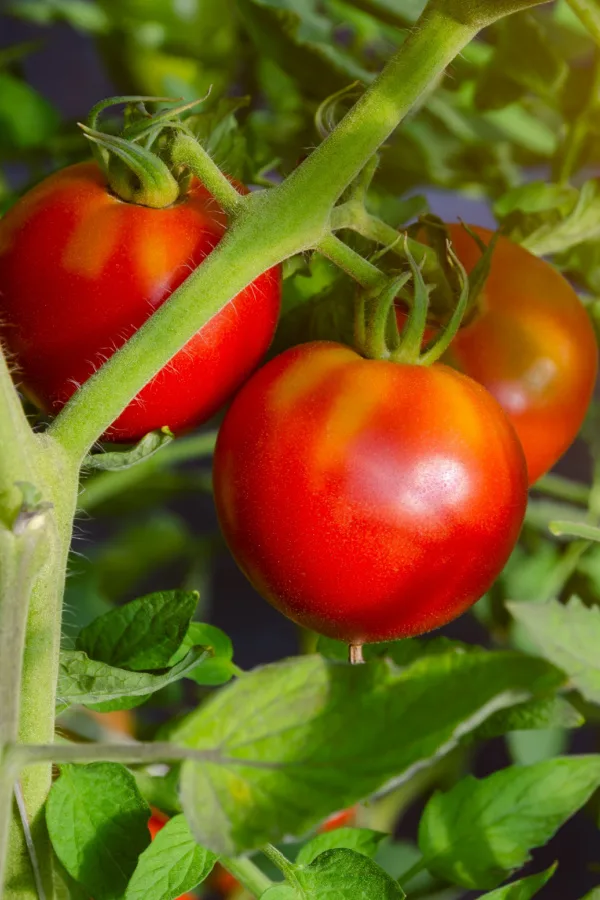 Rutger plants produce globe-shaped tomatoes that have thicker flesh with a strong acidic flavor. This rich flavor allows them to stand out from the other slicing tomatoes on this list.
The fruit is typically used for canning and juicing, but they are also great for slicing due to their strong flavor. While growing, the 6 to 8-ounce fruit seldom cracks and plants are also disease resistant. (Product Link: Rutgers)
Here is to growing and enjoying some of the best slicing tomatoes around this year! For simple tomato staking ideas, be sure to check out "The Best DIY Tomato Support Ever!" on our OWG website. It will have your tomato plants sturdy and strong all summer long.
Simple Garden Life is a website dedicated to keeping gardening fun, simple and enjoyable! We publish two new articles each week along with a new garden podcast episode every two weeks. This article may contain affiliate links.