This year a great way to amp up your fall display is by adding ornamental kale to the mix! There's nothing like a little fall foliage and live plants to help transition from a hectic summer into the slower-paced season of Autumn.
As summer starts to draw to a close, most of your warm weather plants are starting to fade. Some have even died off completely. Thankfully, there are several plants that are well adept at withstanding the cooler temperatures fall can bring – all while adding beauty and texture to your property.
Cold weather crops like peas, lettuce, and radishes are great examples of plants that can be grown in the fall. These crops are harvested for their vegetables, but there are other crops that can be used purely for decorative purposes.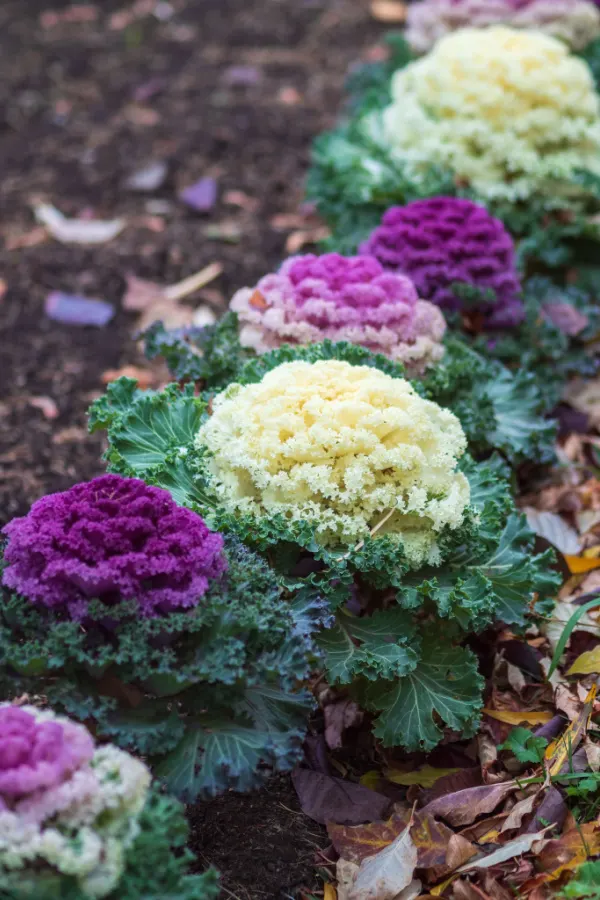 One of those cold-weather-loving plants is ornamental kale. While it is in the same family as edible kale, it is actually grown only for its appearance instead of its consumption. Eating ornamental kale will likely leave you with a nasty bitter taste in your mouth.
Read on to find out how to grow ornamental kale as well as all the reasons why it makes an excellent option for fall decorations. You'll also find out other great pairings you can grow alongside kale to help complete your desired look.
What Makes Ornamental Kale Different
Ornamental kale can often be confused with ornamental cabbage, which features broader leaves that eventually form heads. Local nurseries and stores may also mislabel similar plants. Be sure that the leaves are fringed since cabbages feature flatter, broad leaves instead.
As mentioned earlier, ornamental kale is grown for its colorful foliage as opposed to its flavor. It features leaves that form multiple rosettes. The tips of the leaves are fringed or serrated in appearance and they can be shades of pink, purple, and cream with a green base.
Ornamental kale is actually a biennial, which means that they grow leaves the first year and then the following year it will send up flowers and seeds. Although it is a biennial, kale is usually treated as an annual since the desired look is the leaves as opposed to the flowers.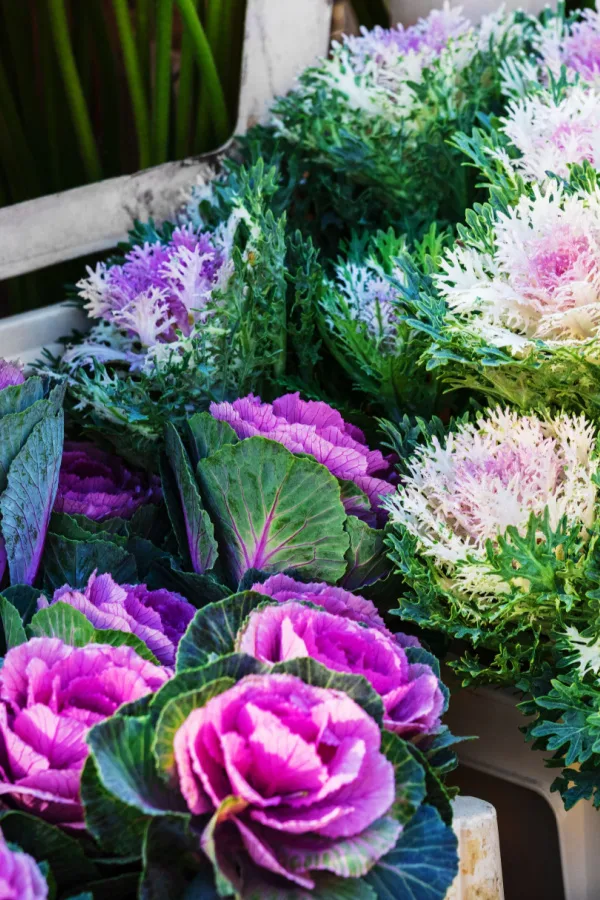 Using Ornamental Kale For Fall Displays
Growing Ornamental Kale
Since ornamental kale is a cool weather crop, it needs to have nighttime temperatures at or below 60º Fahrenheit (15º Celcius). In fact, the cooler the weather, the more beautiful and intense their fall colors will start to be. Ornamental kale can actually survive frost and temperatures down to 5º Fahrenheit (-15º Celcius).
Along with colder temperatures, ornamental kale requires a location that receives full sun to really develop its colors. You can grow it from transplants or by starting seeds. Most varieties grow around 12 to 18 inches tall and wide when mature.
Ornamental kale looks great grown along sidewalks and landscaped areas. However, it also does well when grown in raised beds, pots, and containers.
Growing From Seed
If growing from seed, keep in mind that it takes around 12 weeks for the kale to mature to full color. Sowing around mid-August should give the kale time to mature in time for fall decorating but that will vary depending on your location and the outdoor temperatures. Consider starting seeds indoors for best results.
If growing in a container, choose one that is at least a foot wide and deep. Use a well-draining, organically rich potting soil mix, or consider amending soil with compost if sowing in the ground.
Lightly sprinkle seeds over the soil and cover with about a quarter inch of soil. Water and keep the soil moist until they germinate. Germination should take around 10 days. Thin if needed once seedlings are a few inches tall.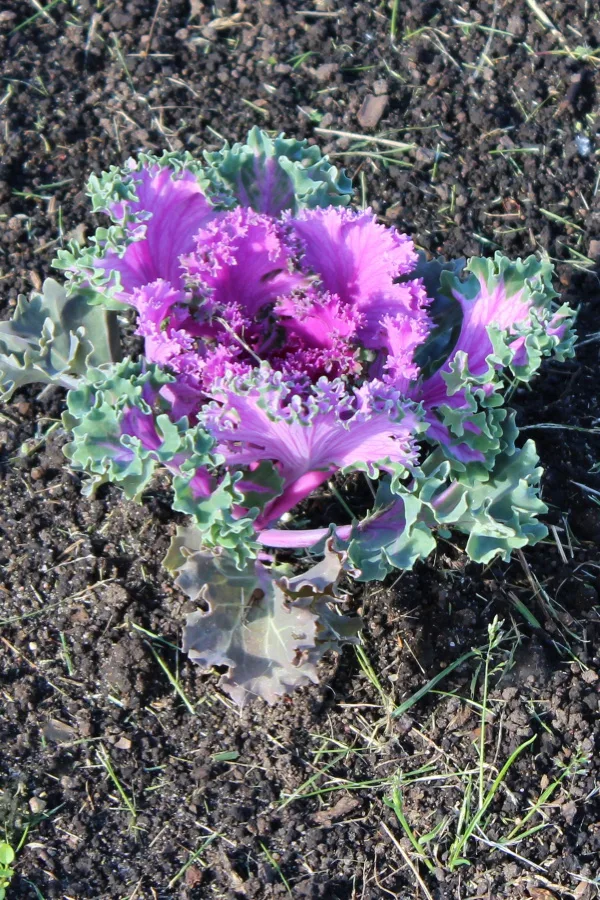 Planting Transplants
For transplants, choose a relatively large plant that has bright, healthy foliage. Loosen the soil a few inches deeper and wider than the transplant's root ball. Amend soil with a few inches of compost if needed. Add the plant to the hole and backfill. Press the soil firmly and water well.
Long-Term Care
Ornamental kale plants need around an inch of rainwater or hand watering each week. You can give them a low dose of fertilizer every couple of weeks after plants are about 4 to 6 weeks old, but this can sometimes cause plants to get leggy. Stop fertilizer once plants start to color.
You do not need to prune ornamental kale, but be sure to remove any damaged or browning leaves at the bottom of the plant. Watch for typical insects that often plague edible kale and cabbage plants.
Once the growing season is over or if plants start to put off an offensive odor indicating they may have spoiled, remove plants and add them to your compost pile. Sudden cold snaps can occasionally kill ornamental kale, but they can usually withstand below-freezing temperatures.
Using It As Fall Displays
As summer progresses, many of your warm-weather annuals will start to fade. That means it's time to put succession planting to good use. Swap out those spent annuals with ornamental kale or other cold-weather plants.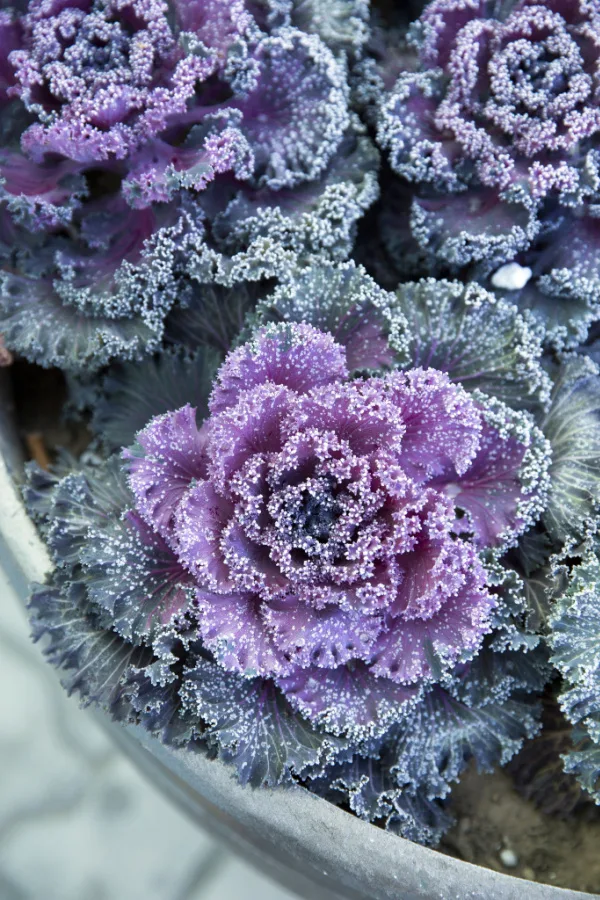 Ornamental kale looks beautiful when planted directly in the ground. Place them dotted along sidewalk edges, walking paths, or in the corners of rocked landscapes. Since they don't grow too large, ornamental kale works best when planted in front of taller plants and flowers. Also, be mindful about taller plants out shading them.
If your landscaping features perennials instead of annuals that can't be removed, consider growing ornamental kale in containers instead. This gives you a lot more freedom about where to locate them around your property.
Place potted kale on each side of your front porch steps to give them a splash of color. Add them to decks and uncovered patios where they can get plenty of sunlight. Potted ornamental kale looks great anywhere you are wanting to add a bit of rich color and textures to your property.
An Excellent Pairing
Ornamental kale pairs beautifully with other cold-weather-loving plants. The ever-popular mum (chrysanthemums) are a perfect pairing with ornamental kale since they come in so many different hues.
Rich-colored marigolds, violas, and pansies are also excellent pairings. Don't forget about ornamental peppers. These beautiful peppers are also cultivated for aesthetic purposes as opposed to flavors and are a great way to add a pop of red, purple, orange, and yellow to your landscape.
Consider adding ornamental kale to large containers that feature multiple different plants all in the same pot. These large displays will surely be attention grabbers with lots of fall colors and visual interest.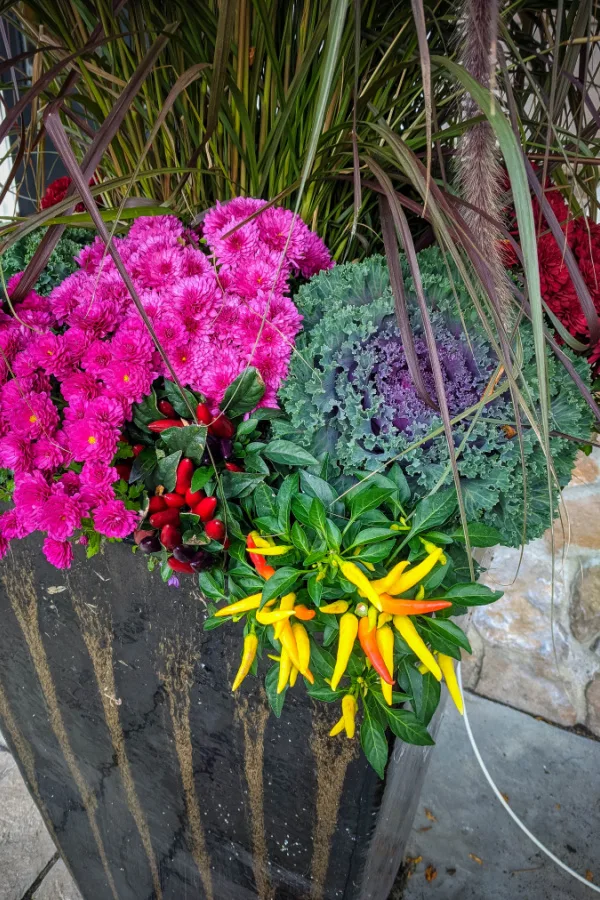 For example, place purple fountain grass in the back, maybe some sweet potato vines cascading along the sides, add in a couple of mums on the sides, and ornamental kale front and center.
The possibilities are endless with ornamental kale as the show stopper! Check out this article for more plant decorating ideas for the autumn season: "How To Create An Incredible Fall Display."
To Conclude…
The next time you are planning your outdoor fall decorations, think outside of pumpkins, gourds, hay bales, and corn stalks. Consider using easy to grow, live plants like ornamental kale to help decorate your home this fall season!
Simple Garden Life is a website dedicated to keeping gardening fun, simple and enjoyable! We publish two new articles each week along with a new garden podcast episode every two weeks. This article may contain affiliate links.