This week's podcast and corresponding article are all about 8 simple garden tools and gadgets that every gardener should own. Gardening doesn't have to be expensive or hard work, but some basic, inexpensive tools can definitely help make the job much easier!
You don't have to spend a ton of money on gadgets like rototillers in order to have a successful garden. In fact, most of these items you might already have on hand in your garage or back shed. If not, they are very easy to find and will help you to save time and manual labor with your garden this year.
You can listen in below to our complete podcast on these garden gadgets – or you can read on for a full-length article on the subject. As always, all of the podcast resource links will be provided at the end of the article.
Simple Garden Tools & Gadgets
#1 Post Hole Digger – Simple Garden Tools & Gadgets
While you might think of building a fence when it comes to using a post hole digger, they can actually come in super handy in the garden, too! Using one is a great way to get your garden planted fast.
Post hole diggers make fast work of creating deep holes that are perfect for transplants. And since you can stand to use it, it also helps to save your back as well!
Using a post hole digger will also disturb less soil and will save on the amount of soil you do have to dig up. In fact, one simple motion can create a hole that is 6 to 8 inches wide and 8 to 10 inches deep.
#2 Drill Auger / Planting Auger – Simple Garden Tools & Gadgets
The next tool is one that fits into a common battery-powered drill you likely already have on hand – the drill auger. Drill augers have great power for drilling into the soil without the use of manual labor.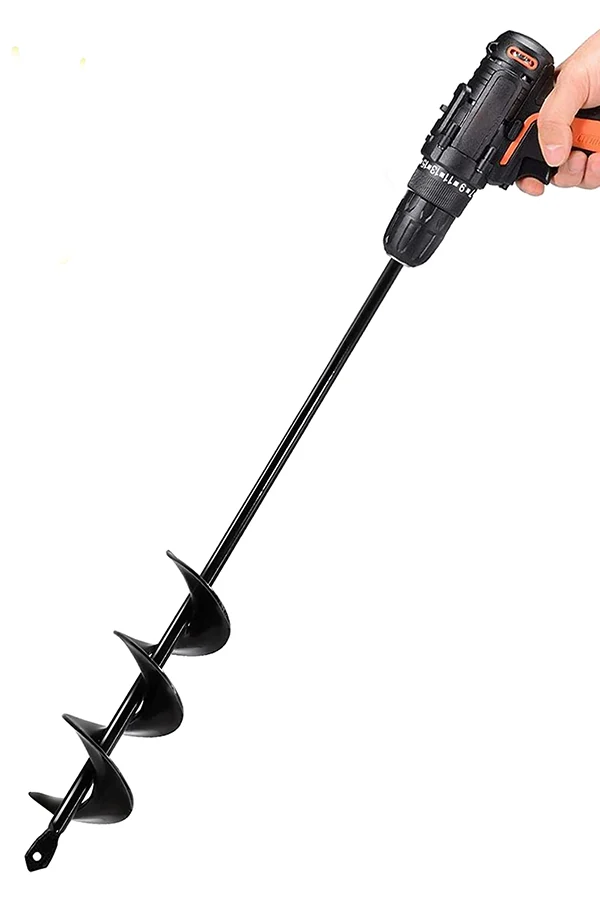 The power of the drill will spin the auger bit. As it goes down, the soil is loosened and pulverized. They are perfect for in-ground digging as well as for use in pots and containers.
Drill augers come in a variety of sizes that work great for all sorts of planting jobs. Smaller bits that are around six inches long and one to two inches wide are excellent for making holes for smaller flower bulbs, onion sets, and garlic cloves. Larger bits that go up to over a foot long and six inches wide are great for vegetable transplants, annual flowers, and smaller perennial plants as well.
In addition, they are also excellent for helping to mix up homemade seed starting soil and potting soil. They can also make quick work of stirring up homemade compost tea mixes as well.
#3 Soil Temperature and Moisture Probes – Simple Garden Tools & Gadgets
While both of these tools are inexpensive, they are so useful to help you understand your specific growing location and soil conditions. You can find both probes individually as well as a multi-tool that will give you multiple readings for each.
They are great for use directly in the garden, in pots, in containers, and also when starting seedlings as well. Figuring out your soil temperature is important for spring planting and knowing when the ground is ready for seeds or transplants.
For many plants, if you add them into the soil too early when the soil is still cold, they struggle to germinate and take hold. By having a soil temperature probe, you don't have to guess when the soil is just right for sowing.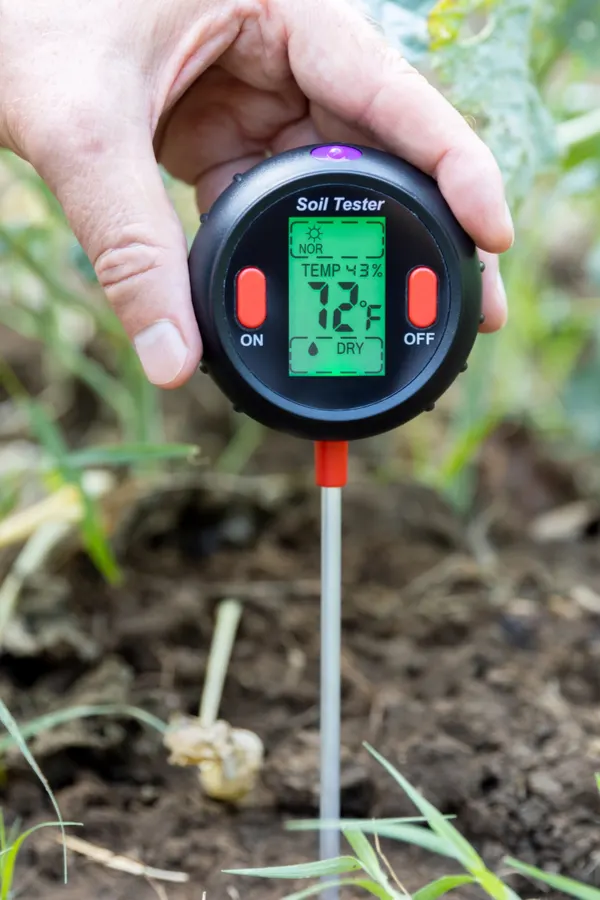 A moisture probe can help save you from the mistakes of over or under watering. Not only can it be useful with in-ground plants, but also for your pots and containers too. No more using your fingers to help guess the moisture level of the soil!
#4 Camera or Cell Phone Camera – Simple Garden Tools & Gadgets
Nothing beats taking a photo or two of your garden to use a future reference. Unfortunately, our memories aren't perfect – and they often betray us after a month, let alone an entire year.
Use your camera to take photos of your current garden layout. This can help when you are implementing garden rotation. Print out a basic black and white copy and jot down what varieties you are growing in each location. You can even note what had success that year and what ended up being a flop.
In addition, you can also use your camera to snap pictures of pests that might trouble your garden as well. When the next year rolls around, you can look back at your photos and be reminded what time Japanese beetles started showing up – or when the cucumber beetles first arrived.
It can be incredibly helpful in preparing and fighting off pest issues. It's also a great way to keep seasonal tabs on how your plants are performing. And, of course, it's a great way to show off to your friends and family as well!
#5 The 5-Gallon Bucket – Simple Garden Tools & Gadgets
Believe it or not, the basic 5-gallon bucket is probably the most useful tool that you can own for gardening. Not only are they inexpensive and easy to carry, but they can be a great vessel for all sorts of items.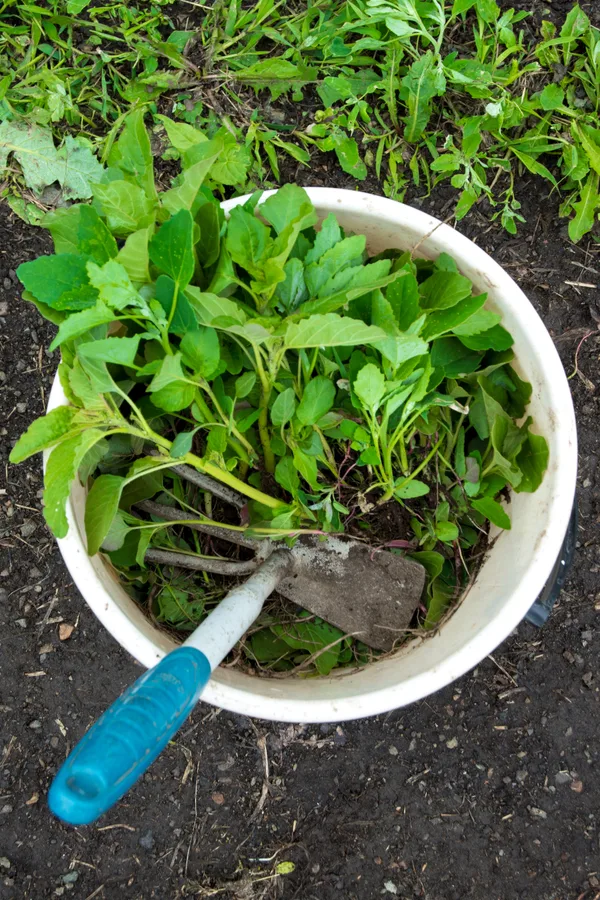 5 gallon buckets are great for holding weeds while working your flowerbeds. They can also be perfect for holding transplants. They also happen to work great for holding the produce as you harvest the garden, to carry your other garden tools, and even as a temporary seat when your legs and back need a break from all that garden work!
As an added bonus, you can even grow your own plants using 5-gallon buckets as the container. Oh, and to make an amazing batch of compost tea as well. The list goes on and on!
#6 Hand-Held Ratcheting Pruners – Simple Garden Tools & Gadgets
For pruning and harvesting, a great pair of sharp, ratcheting pruners is a must. This is especially true if you are someone who suffers from arthritis, or simply have hands that don't have a lot of strength.
A good pair of pruners makes life easy in the garden. Not only are they perfect for pruning back and up under tomato and pepper plants, but they are also wonderful for cutting off and harvesting cucumbers, zucchini, watermelon and more.
In fact, it's much better for your plants to cut these crops off instead of pulling them from the vines. Just be sure to wipe the blades down when switching between plants to help deter the transfer of disease, mold and other issues.
#7 Hori Hori Garden Knife – Simple Garden Tools & Gadgets
This might not be the most widely known garden tool, but it is sure to become a favorite! The hori hori knife basically combines a small garden shovel and a knife into one do-it-all tool.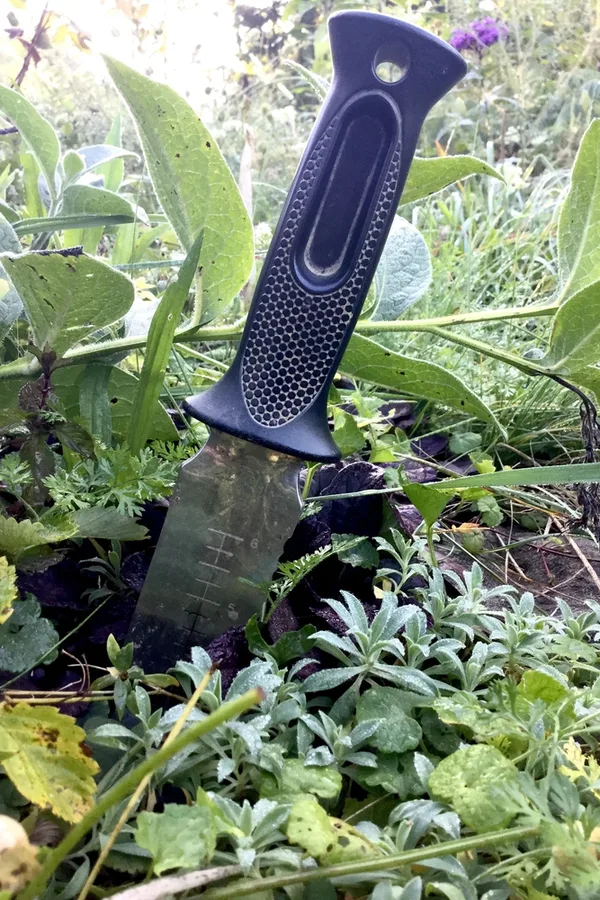 It even contains a serrated edge and also has measurements along the blade as well. The sharp edge is great for cutting garden string or even slicing thick stems. Meanwhile, the measurement notches are perfect for gauging planting depths.
It's lightweight, packs a heavy punch, and is so versatile that it can be used almost everywhere and anywhere in the garden, flowerbeds or landscape.
#8 A Sense of Humor – Simple Garden Tools & Gadgets
The last but likely most important simple garden tool is 100% free but definitely priceless. You need to have a sense of humor when it comes to gardening!
The simple fact is that sometimes, no matter how hard you try, things are going to go awry in the garden. Lots of times, these things will be out of your control. Other times, a simple mistake might happen to throw off your entire growing season.
Maybe it's that cute little bunny that mows down your entire lettuce crop overnight. Or maybe you followed all of the "rules" only to have mother nature roar her head and flatten your crop of sweet corn.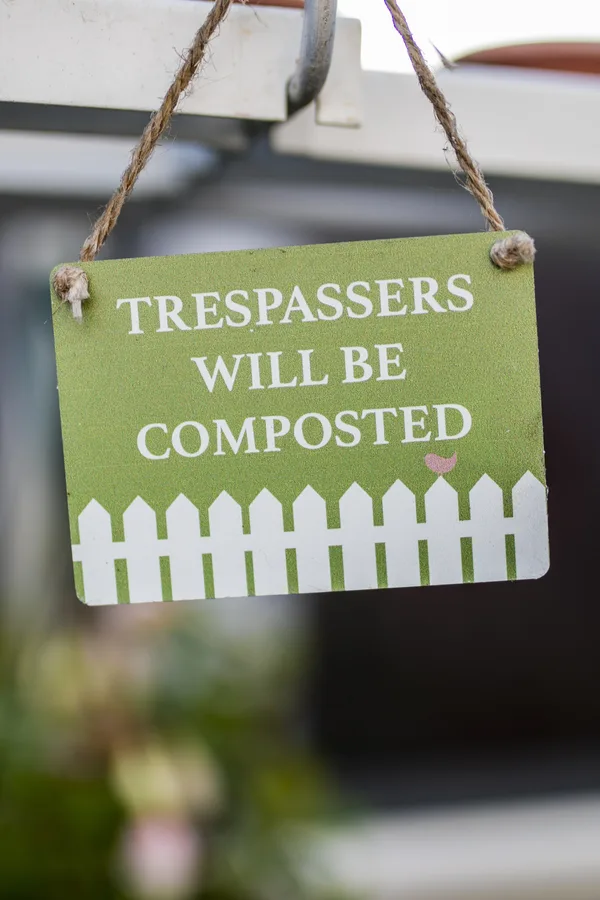 Seeds won't always germinate correctly, pests might overtake certain crops, plants might have beautiful foliage but produce next to nothing to harvest. At the end of the day, issues will occur at one point or another, but that's just a part of gardening. And the best thing you can do is still be able to smile and enjoy it all!
No matter what the reason, your garden isn't going to be perfect and problems may arise throughout the growing season. Whatever happens, just remember to keep your sense of humor about it and have fun gardening!
You never know – Those disappointments and issues may even turn into a challenge to try to overcome the next year. Count the positives and learn from the negatives and try to make next year even better!
Podcast & Product Links
Article Links:
Product Links:
And, if you happen to be a gardener looking for a job as a gardener, be sure to check out the latest job postings on Jooble! Who knows, you could find your dream job!
Simple Garden Life is a website dedicated to keeping gardening fun, simple and enjoyable! We publish two new articles each week along with a new garden podcast episode every two weeks. This article may contain affiliate links.