Hit the play button below to listen to this weeks episode : How To Plant Your Garden For Success – 7 Big Planting Day Secrets! Below you will also find our show notes along with references and links from the article. Be sure to check out all of our past episodes on the website at SIMPLE LIFE GARDEN EPISODES
IMPORTANT REFERENCE LINKS & ARTICLES
PRODUCT LINKS
How To Plant Your Garden For Success – 7 Big Planting Day Secrets!
Show Outline / Show Notes
Joy and excitement of planting a garden.
Seeds & Transplants – What to plant when
Our first garden story – Overcoming the nerves and excitement
#1 Start with a Plan
Have a plan of what types of vegetables that you want to plant.
Which one can be put in as seeds vs. transplants and find out what time of year that they can be planted.
Map out the garden plan on paper – rotate crops if you had a garden last year.
Check your companion planting guide.
#2 Don't Plant Too Early – Let The Soil Warm Up For Transplants
Exception are cool weather crops – seed crops.
Allow the soil to warm to help transplants root – 60-65 degrees for most transplants.
Cold soil – plants can rot off / mildew more likely / stunted growth.
#3 Put in Stakes, Tomato Cages, Trellises and Supports Before Planting
Doesn't damage the roots later with stake or post.
Keep foot traffic off of the roots and soil from being compacted.
Allows for early support of crops.
How close to plant depends on the variety – large heirloom slicing tomatoes or cherry tomatoes need more room than smaller bush like varieties such as Roma or bell pepper plants.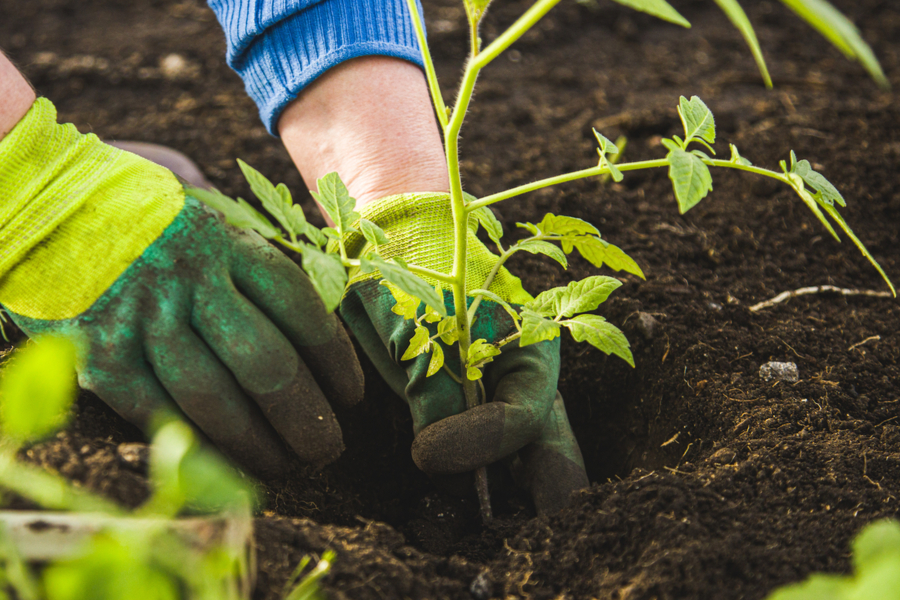 #4 Use A Post Hole Digger For Planting Transplants / Mattock for seed crops
Simple, effective and fast. In fact, you won't believe how fast!
Creates a great planting hole that is not only deep, but wide enough for easy planting too.
Plenty wide for early root growth.
Saves on bending and your back.
Keeps the hole size smaller than using a shovel – disturbing less soil.
Mattock is perfect for seed crops.
Question of the week – Marty from Cold Spring, New York. I planted cover crops in the fall and it is still growing. How do I plant my radish and lettuce seeds through the cover crop?
#5 Fill Your Planting Holes & Seed Furrows With Power
Add compost, crushed egg shells, coffee grounds and worm castings.
For seed crops – fill the furrows with compost.
The depth of the holes or furrows will depend on what you are planting. Read the back of the package.
Transplants – if root bound, release the root ball. Plant deep enough that some of the stem is also in the ground.
#6 Mulch, Mulch Mulch
Mulch not only helps insulate the soil but helps keep competing weeds at bay.
Keep moisture in your seedlings and transplants.
Creating the compost "power ring" around transplants.
#7 Water SMART
Young transplants will need more frequent watering at first.
Once established, water less often, but deeply.
¼ gallon per transplant at the base of the plant.
Less watering allows for roots to go deep – better results.
ENDING RECAP
1.Plan
2. Don't plant too early, always allow the soil to warm up first.
3. Put in your vegetable supports before planting
4. Post hole digger/ mattock
5. Don' just fill the holes with powerful ingredients, but also be sure to keep from compacting the soil.
6. Mulch
7. Water smart